Learn 13 Design Principles That Make Websites Convert 
Designed to convert is packed with actionable tweaks and strategies that improve your conversion – that means more readers, subscribers, and customers.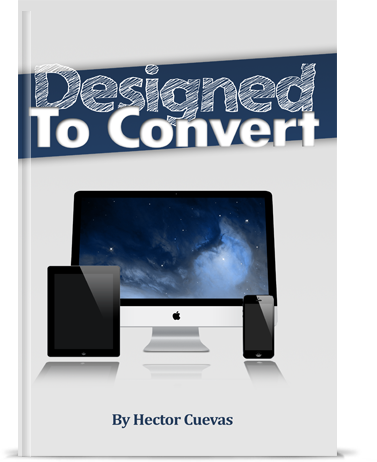 You may be struggling to turn website visitors into subscribers and buyers. There's a lot that goes into building a site that's designed to convert. You have to figure out:
what your lead magnet is going to be

what pages you should create

how to make your website more user friendly

how to get people to click on your links

…and take you up on your offers

plus so much more.
What if you had access to proven and tested information on how to build a blog that was ready to turn your visitors into subscribers and buyers? That's what you'll find inside Designed to Convert.
What's inside
Format: PDF | Pages: 101 | Size: 2.71MB | Instant Download
Here's what you'll learn… 
 .
The exact percentage of people who join my email list through different entry points (on pg. 60)
The power of colors and how you can use it to your advantage (on pg. 13)
One simple action step to making your opt-in form stand out
The psychology behind font styles and font sizes and how that affects conversions (on pg. 39)
How to use design elements to gain popularity and credibility
The 5 most common mistakes people make when using images (on pg. 20)
How to effectively use images to grab attention (hint: there are 3 ways to do this)
How to fix the design elements that are causing you to lose traffic (on pg. 30)
The truth about a clutter-free sites and how to use white space in your design
The one thing we can learn from multimillion dollar companies about converting visitors into customers (on pg. 17)
5 Simple Steps To Instantly Improve the Usability of Your Site
What you can do to get visitors to pay attention to your opt-in box over anything else on the page. (on pg. 10)
How to prevent marketing blindness (on pg. 61)
The truth about giving your visitors options and why you should keep it at a minimum
How to properly use "fear of loss" to get your visitors to act (not doing it right can have a negative effect)
3 Awesome examples of how businesses get their audience to do what they want (on pg. 75)
…What else do I get?
Templates, graphics, worksheets, and checklists: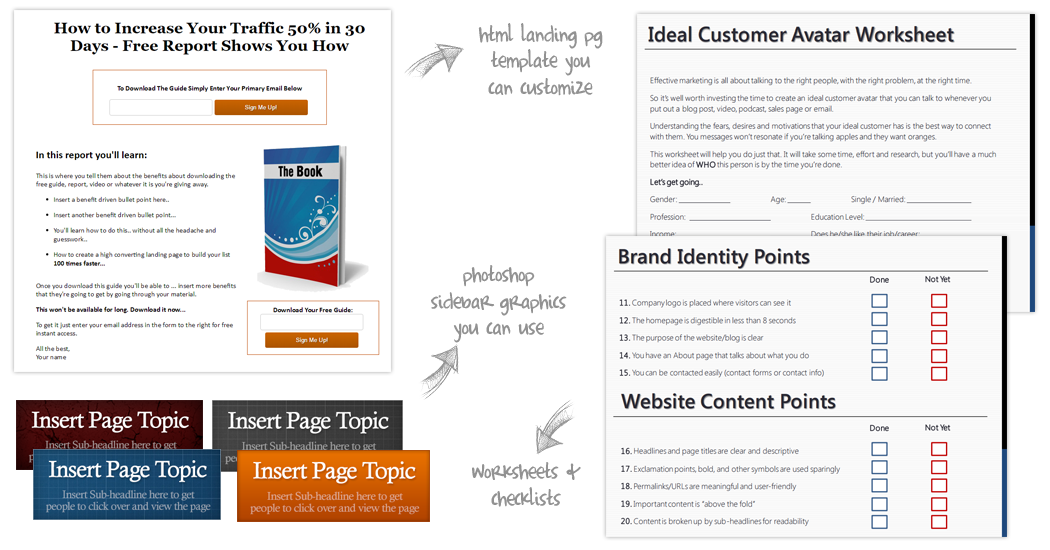 What people are saying…
"It's Awesome..Clear & Professional – 5 Stars!! Yo Hec! I just purchased your ebook. Mann!!! It's Awesome!! The content is clear and concise with design elements throughout the ebook that screams… "Professional!!" Thanks for putting your expertise into this guide and sharing it with us! 5 STARS!!! THANKS A TON!!"
– CC Matthews
Get Designed to Convert
No risk. 30 days money back guarantee.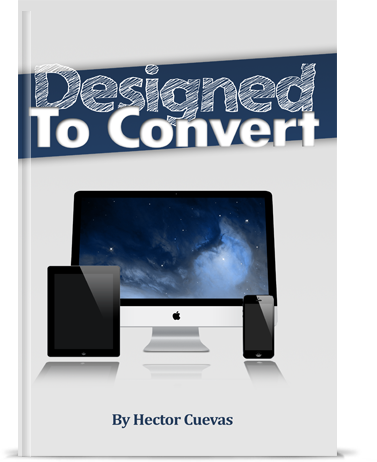 Ebook + Resources
Get the Designed to Convert guide with additional resources for free. 
Designed to Convert: 101 pages showing how to design websites that convert. 
Sidebar graphics (Photoshop files)

Ideal customer avatar worksheet (PDF)

Website usability checklist (PDF file)

HTML landing page template

30 day money back guarantee
Any Questions..?
 .
Q: How do I know if Designed to Convert is right for me?
A: If you have a website (or a blog) and want to increase the number of people subscribing to your email list and buying your products, then this is right for you. These are 13 quick fixes & design principles that I use and still work today.
Q: Will I be able to ask questions if I get stuck?
A: Yes! When you buy Designed to Convert you also have direct access to me. So if you get stuck in any part of the process, or you just want to run something by me, send me and email and you'll get an almost immediate response.
Q: What's the refund policy if I'm not satisfied?
A: I do stand behind my products 100%. That's why I offer a 100% money back guarantee. That means you either love the book, or you get your money back.
Q: Do I get future updates for free?
A: Yes! You get lifetime access to Designed to Convert and any future versions of the guide. My goal is to help you get more out of your website, not suck every dime out of you.
Q: You didn't answer my question, where can I reach you?
A: You can reach me at Hector@Hectorpreneur.com – ask me anything you like. I'm here to help and I hope to see you inside.