Learn to Write, Design, & Publish High Quality Ebooks
Ebook Blueprint is a complete guide to creating ebooks that your readers will love and want to buy. You'll learn everything from planning to launching, step-by-step.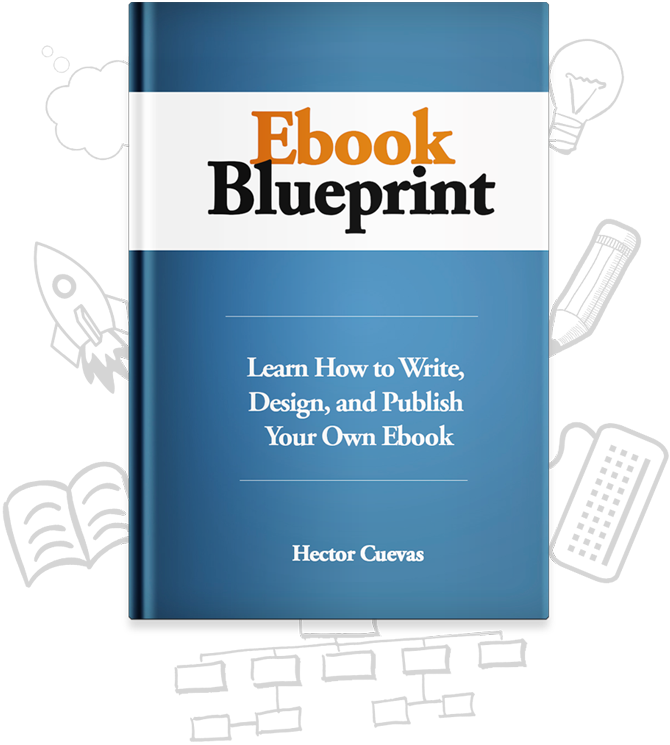 Have you ever had idea for a book, but weren't sure if it was going to sell?
Or have you ever wanted to write a book, but weren't sure how to get started?
That's what Ebook Blueprint is all about. It's the complete step-by-step guide to publishing your ebook and getting it in the hands of your readers. 
I'll show you how to find an idea that people will love and actually want to buy.
What's inside
Format: PDF | Pages: 137 | Size: 2.64MB | Instant Download
Table of Contents
 .
Picking a Topic
In this chapter you'll learn how to do market research and pick a book topic that will resonate with your audience.
Don't Write, Validation
In this chapter you'll learn the best way to avoid writing books no one wants to read or buy. Validation is key.
Outlining Your Book
This chapter is my step by step process to outlining ebooks from scratch. By the time you're done you'll be ready to write.
Writing Great Book Content
In this chapter we talk about what type of content you shold include in your books, and how to beat the blank page.
Naming Your Book
In this chapter you'll learn various book naming tips and the approach I take to naming my own ebooks.
Tools & Resources You Need
This chapter is the technical side of ebooks. You'll learn about the tools, software, and other resources needed to design, write, and sell your books.
Designing & Formatting Using Powerpoint
In this chapter you'll learn how to use MS PowerPoint to design and format the layout of your books – to make it look professional.
Pricing & Packages
In this chapter you'll learn how to best price your books and ow to create packages that allow you to charge a lot more.
The Ebook Sales Process
In this chapter you'll learn the entire sales process that your customers must go through so you can get paid.
Writing a Sales Page
In this chapter you'll learn how to put together sales pages for your books and the 8 step 'formula' to help you write one quickly and easily.
Marketing Your Book
In this chapter you'll learn how to get ready to launch your book and how to market it for ongoing sales.
…What else do I get?
Ebook launch plans and email templates you can learn from: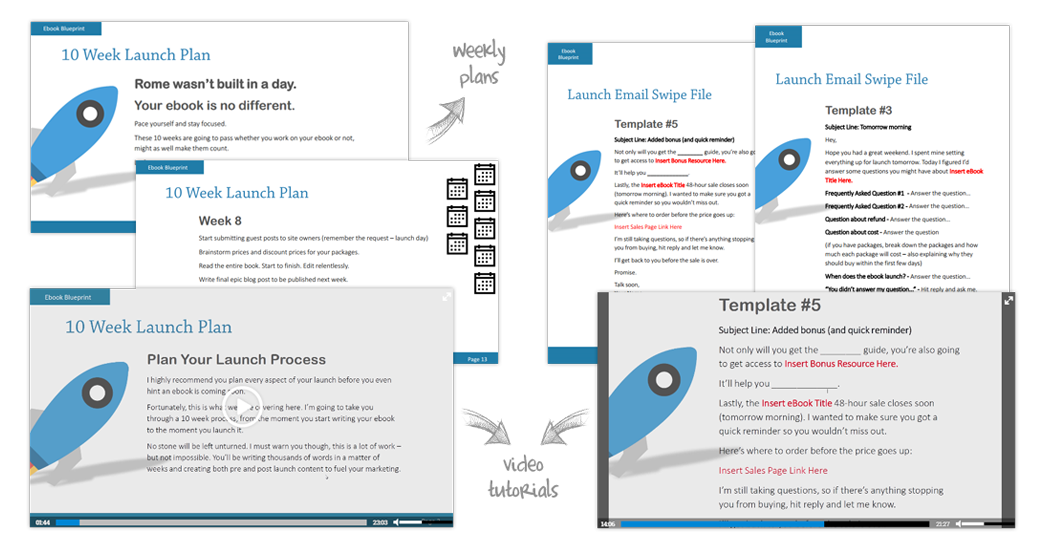 Custom ebook templates & Photoshop covers you can use (with step by step video tutorials):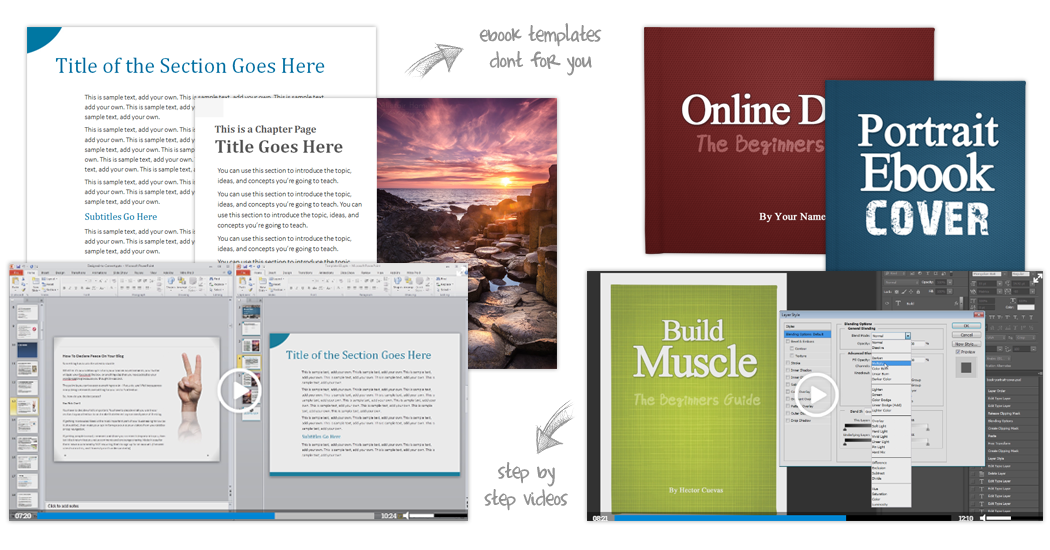 What people are saying…
"Hi Hector, Just finished Ebook Blueprint. Great stuff! I had already started writing when I found you on Google but you saved me a lot of time. This Ebook is well thought out, structured and packed with useful information. I learned some great tips that inspire me to jump right in and write an other another one afterwards although my next idea leans more towards a novel."
– Christian Emond
"That's cool! This guide to design Ebooks was well explained. It will for sure make my designs to be brilliant when I published all my designs over the web. You know what, this is my first reference for designing 3D images and Ebooks. This is a big help to me." – Jomer Enrille
Get Ebook Blueprint
No risk. 30 days money back guarantee.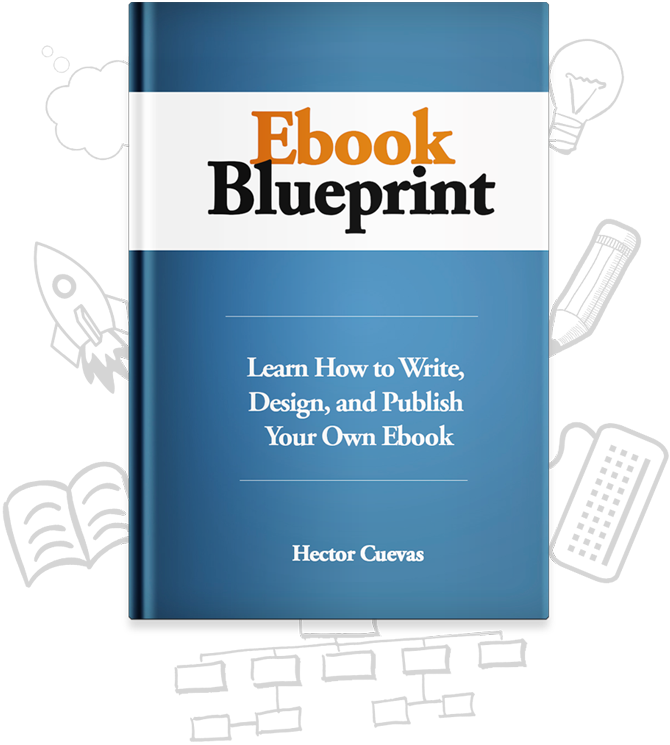 Ebook + Resources
Get the Ebook Blueprint guide with 5 additional resources. 
Ebook Blueprint: 132 pages showing how to plan, write, design, and market your ebook – step by step. 
10 Custom ebook templates (MS Powerpoint files)

Portrait and landscape ebook covers (Photoshop Files)

Ebook Blueprint audio version (MP3 File)

10 Week Ebook launch plan (PDF File)

Launch email swipe file (7 Emails)

30 day money back guarantee
Any Questions..?
 .
Q: How do I know if Ebook Blueprint is right for me?
A: If you're a content creator (blogger, podcaster, YouTuber) and want to monetize your audience with a high quality ebook, then this is right for you. It's not for people that want to write novels and sell kindle books on Amazon – this is for people with marketable skills and knowledge that want to get paid to share it with the world.
Q: Will I be able to ask questions if I get stuck?
A: Yes! Ebook Blueprint is designed as an online self-study program, but you also have direct access to me. So if you get stuck in any part of the process, or you just want to run something by me, send me and email and you'll get an almost immediate response.
Q: What's the refund policy if I'm not satisfied?
A: I do stand behind my products 100%. That's why I offer a 100% money back guarantee. That means you either love Ebook Blueprint, or you get your money back.
Q: Do I get future updates for free?
A: Yes! You get lifetime access to Ebook Blueprint 2.0 and any future versions of the guide. My goal is to help you write, launch, and automate your own ebook, not suck every dime out of you.
Q: You didn't answer my question, where can I reach you?
A: You can reach me at Hector@Hectorpreneur.com – ask me anything you like. I'm here to help and I hope to see you inside.

"thanks for breaking it down.."
"Hector, I just wanted to share with you that this had an important share in the process of writing my first eBook! Thank you for helping me!" – Jan
"This is giving me a great direction to go in with my ebook. I've been struggling to come up with a definite ebook topic. My blog is fairly new but gets a decent amount of traffic. I also don't have a very engaged audience yet, so it's difficult to put out a survey or any kind of response required email. I like your suggestion to only take one strategy and research it. Thanks for breaking it down. It's been a big help!"– Carrie Smith