Learn to Develop, Launch, and Grow an iTunes Podcast
Start a Podcast: The Masterclass is a complete video guide to starting and launching a podcast that your listeners will love. You'll learn everything from planning to launching, step-by-step.
Do you want to start a podcast, but don't know how to get started?
Do you want to reach thousands of new people using just your voice and a mic?
That's what this masterclass is all about. Start a Podcast: The Masterclass will teach you how to create,launch, and grow a successful podcast. 
I'l show you how to get started from scratch with just an idea.
What's inside
Format: MP4 | Video Count: 42 | Instant Streaming Online
Table of Contents
 .

8 Video Lessons
Define Your Audience
In this module we start off buy figuring out what you should start a podcast about. Even if you feel you have a great idea, watch these video lessons to hone in to ideal listener and figure out what the best topic is for you..

13 Video Lessons
The Techie Stuff
Podcasting is a very technical skill. If you're just getting started, then you'll need to learn about mp3 tagging, recording, editing, sofware, hosting and a whole lot more. This module covers all that – and more.
---

5 Video Lessons
Podcast Development
Podcast development covers everything from the podcast blog post to the podcast email. In this module you'll learn how to configure feedburner the right way and how to use landing pages to convert listeners.

7 Video Lessons
Podcast Launch
Module four is jam packed with actionable steps to market and launch your podcast. You'll get a checklist for the Welcome Episode and a launch plan that will have your podcast in the Noteworthy section of iTunes.
---

4 Video Lessons
Podcast Monetization
Whether you're trying to monetize with Sponsors or you're selling products and services, this module will teach you the fundamentals of getting paid with your brand new show – and how to stay consistent.

5 Video Lessons
Podcast Network
This is the module that you won't find anywhere else. In these 5 videos I talk about how I developed the Inbound Pro podcast network and teach you how to do the same for your business – I share it all. Enjoy!.
 .
…What else do I get?
Worksheets, Checklists, & Templates
You have to implement the material if you want results…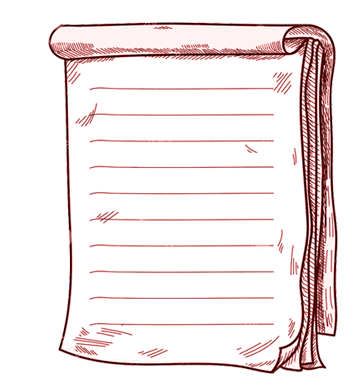 So I added a few extra goodies to help you do just that. Along with all the videos you get access to worksheets and templates that will help you:
Define your ideal listener (extremely important)

Pick the perfect podcast topic for you

Create an effective podcast marketing plan

Launch your podcast the smart way

Create your own custom podcast format
…and that's just the beginning.
More Than Just PowerPoint Presentations…
You'll see me do it, not just hear me talk.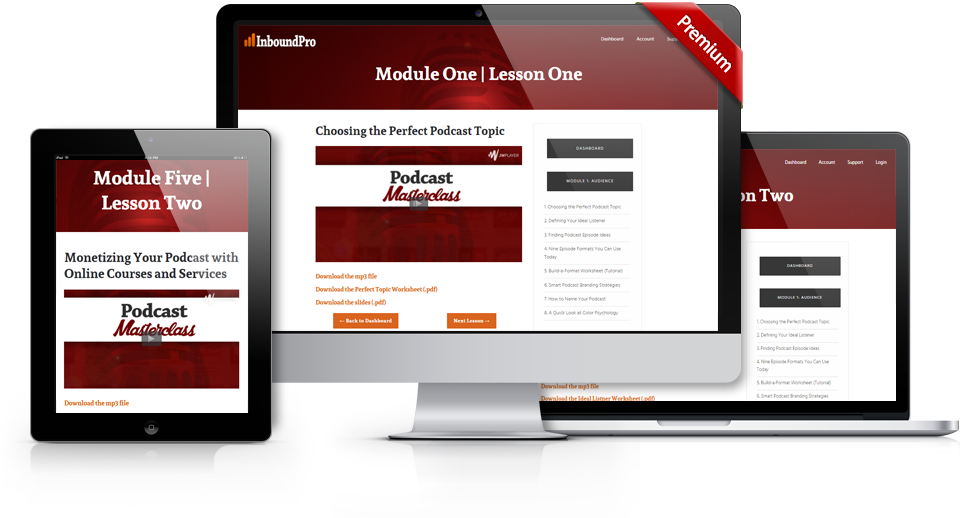 I wanted this to be a very comprehensive program that not only teaches you the strategy behind a successful podcast, but also how to actually create one. So, we get into how to record your voice, and how to make the recording sound professional – without any fancy equipment and with FREE software. I walk you through my process, step-by-step.
By the time you're done with module 2, you'll be producing high quality audio content like a pro.
Proof This Stuff Works: The 1 Day Case Study
This quick (9 min) video shows you the early stages of the Inbound Pro Podcast Network, and actual results from promoting / launching your podcast the right way. (the way I teach inside Podcast Masterclass). Turn your volume up and press play to watch.
Podcast Update: 10 Days in iTunes
I recorded this video 10 days after my last "proof" video to show you how my shows were doing after being on iTunes for only 10 days. The results my surprise you. Sit back and enjoy.
Get The Masterclass
No risk. 30 days money back guarantee.